Barther Metal Open Air 2023
The Lost BMOA
With more than 20 years of BMOA practice, we naturally wanted to celebrate a great open air with you this year – but this year everything is different. Guests, musicians and organizers have suffered from Corona in recent years … And now, that things could go uphill again, the theatre is suffering from "Ruinousa". For some local politidcians is clear: It has to go. Others – like us – would of course like to see them renovated. But that is not possible without donations and/or subventions for funding.
To get this, the open-air stage must be used – even more so on the other days of the year – on the days, when there is no BMOA in Barth. A viable self-financing concept must be on the table. Of course the theatre has to amortize itself. But that is not possible with 5 or 6 events per year only.
SO LET US USE THE OPEN AIR STAGE – we like to set a good example… 😉 And we also contribute to the costs: Every ticket that would be selled more than 250 tickets (that would be our expense) will be donated for open air stage's renovation. Because without an open-air stage there will be no more BMOA.
That's the reason for the motto/naming of this event: The Lost BMOA. At first it looked as if it would be canceled and that the BMOA 2023 would be lost. Luckily at the last moment there was still the opportunity to celebrate at least a small, early Metal Open Air with you. (Alternatively, we could have called it "The Rescued BMOA" or "The Saved BMOA" too – but that still sounds too optimistic at the moment. This naming might be more appropriate if we know, that it really continues on a new stage after 2023! But it doesn't matter, whether it is "saved" or "lost" in 2023 – we cannot and don't want to get used to the idea that it could be the last … "The Last BMOA" …
Of course we hope that it will continue (at some point?) …
Nevertheless: 2023 is (for the time being?) the last BMOA.
So take the chance again! Who knows what's coming?
[More Infos: http://Freilichtbühne-Barth.de/]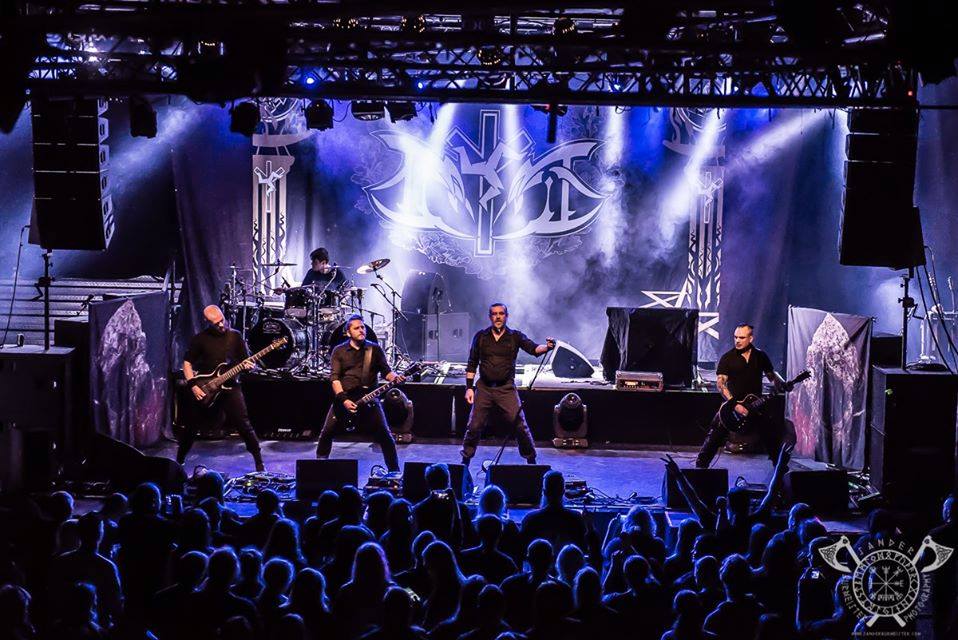 Place & Time:
Geo-Position:
54°21'32.1″N 12°43'36.6″E
54.358918, 12.726836
Town:
18356 Barth, Germany
Location:
Outdoor stage ("Freilichtbühne"), in the urban park "In den Anlagen"/"Barther Anlagen"
Date:
Sunday, May 28th 2023 (Pentecost Sunday)
Time:
05:00 pm – 01:30 am
Admission:
03:00 pm
Tickets:
Ticket prices:
€ 30,- Pre-sale
€ 35,- Box Office / Entrance
Ticket order:
As always, the order is to place in the BMOA shop. You will receive an invoice after placing your order and paying for it. Please take this invoice with you and show it to the clark/cashier/controller at the entrance. You will receive your wristband for accessing the festival area there.
PS: Of course you can also browse for merchandising items in the BMOA shop.
[More Infos: https://BMOA-Shop.de/]
---
Arrival & Overnight Stay:
Arrival:
Arrival is possible from Saturday the May 27th, 2023, afternoon.
(Please refer Saturday-Goodie!)
(Please don't arrive earlier!)
Parking:
Outside the urban park on the marked areas.
• Parking Space #1 (parking ground in the south, green space Wilhelm-Liebknecht-Straße)
• Parking Space #2 (parking ground in the north, to the left and to the right from the old goods station (dilapidated building directly at the train station))
Camping:
Different from previous years: Camping is prohibited in the urban park ("Anlagen"); it's only allowed at the Parking Space #1 (Wilhelm-Liebknecht-Street) !!!
Therefore, please camp SPACE-SAVING and do not build large camps!
---
Catering:
Food supply & physical well-being:
The supply with drinks, grilled food, pan dishes and stews is guaranteed during the events on the festival area.
If you would like to stock up on other food, drinks or everyday items in Barth, please note the opening times (Pentecost)! Without considering the gas stations, there is only a small time window for shopping late on Saturday afternoon.
---
Hints:
Order & Security:
Bonfires are strictly forbidden in the parking lots (and therefore also where you camp); Barbecuing is allowed! Unfortunately, we have to punish non-compliance with a reprimand/sending off from the place. We hope you understand..
Noise:
Please note that car parking ground 1 is near a residential area; so please refrain from loud music coming from the cars. We all want to do a BMOA again in 2 years (or similar), right???
---

Goodie:
Pfingsten LIVE! ("Pentecost LIVE!"):
As a little "bedtime treat" for you, on Saturday, May 27, 2023, you can join another (hopefully really) rocking concert evening with three regional bands – under the motto "Pfingsten LIVE!". From the side of musicians you can hear, they were also at home in the areas of pop & electronic music, dance, party & disco. We will see. We metalheadz are tolerant. 😉


Admission is free!
05:00 pm Admission
06:00 pm NEWUX (Barth)
07:30 pm HONEST (Barth) und
09:30 pm ROCKVALLEY (Rostock)
on our good old open-air stage.
If you still don't want to crawl relaxed into your tent afterwards, you can get something on your ears: Party mixes by DJ Basti Retzlaff … 😉
---
General information:
Train & Bus Station:
The railway station is only a 5-minute walk from the festival area. The same applies to the bus station. The objects are right next to each other.
 [Train Connections] [More Infos] [Bus Connections]
Beach:
You only need 15 minutes by car to one of the most beautiful sandy beaches on the Baltic Sea. Pentecost goes a little longer than the BMOA… 😉
Lagoon & National Park:
If you don't necessarily have to see "the big water" – i.e. the Baltic Sea – and are already satisfied with the smaller Bodden waters, you will find what you are looking for after 10 minutes in the national park "Vorpommersche Boddenlandschaft" (Western Pommeranian Lagoon Landscape) … 😉
Have fun & best regards
Your BMOA-Team